Binding Rope Cross Hanging Bracelet Charm. 30% OFF*
Marina Jewelry Bracelet Charm, Cross with Binding Rope Hanging Charm, Sterling Silver. Fits Pandora Bracelets! *Regular Price $28.50
Item # : BR100AI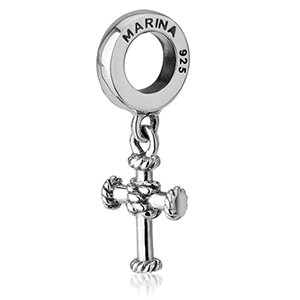 Stock Review
Marina Jewelry Bracelet Charm, Binding Rope Cross Hanging Charm, Sterling Silver

Beautifully detailed cross with rope in the middle and on the ends of the cross. The rope on the cross recalls the rope used to bind Yeshua to the cross as well as the nails. The rope has become the symbol of the bonds freed in Christ's sacrifice on the Cross.

Sterling silver charm for all modern charm bracelets. Made in the Holy Land at Marina Jewelry in Haifa.
Review this product
Please log into your account to Add Your Comment.