Star of Bethlehem Hanging Bracelet Charm, Sterling Silver
Marina Jewelry Bracelet Charm, Beautiful Star of Bethlehem or Christmas Star. Sterling Silver. Fits Pandora Bracelets!
Item # : BR100AG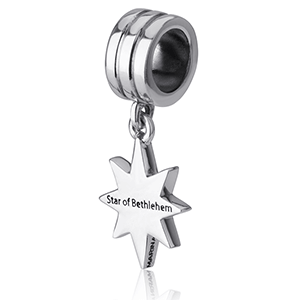 Stock Review
- In Stock
Length:7.5 inches - In Stock
Marina Jewelry Sterling Silver Star of Bethlehem Hanging Bracelet Charm

"Now after Jesus was born in Bethlehem of Judea in the days of Herod the king, behold, wise men from the East came to Jerusalem, 2 saying, "Where is He who has been born King of the Jews? For we have seen His star in the East and have come to worship Him."" Matthew 2:1-3

The Star of Bethlehem charm is perfect for a Christmas present. It is simple, beautiful and will shine out from the charm bracelet.

The charm is created from sterling silver in the Holy Land, where is all began. It is from Marina Jewelry, internationally known jewelry studio in Haifa.
Review this product
Please log into your account to Add Your Comment.