Lion of Judah Hanging Bracelet Charm, Sterling Silver. 30% OFF*
Marina Jewelry Bracelet Charm, Lion of Judah Hanging Charm. Sterling Silver. Fits Pandora Bracelets! *Regular Price $28.50
Item # : BR100I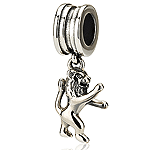 Stock Review
Marina Jewelry Sterling Silver Lion of Judah Hanging Bracelet Charm
A lovely delicately designed Lion of Judah bracelet charm. The charm is in the shape of a lion with exquisite detail in 925 Sterling Silver. The Lion of Judah comes from the ancient Israelite Tribe of Judah (Yehuda) whose patriarch Jacob gave the name to his tribe. The city of Jerusalem has adopted the Lion of Judah as its symbol.

Can be worn alone on the bracelet or with any combination of other Marina Bracelet Charms -- or even on a necklace chain.
Review this product
Please log into your account to Add Your Comment.