Hanging Hoshen Bracelet Charm in Sterling Silver. 30% OFF*
Marina Jewelry Bracelet Charm, Priestly Breastplate Hanging Charm. Sterling Silver with 12 small stones. Fits Pandora Bracelets! *Regular Price $47.50
Item # : BR100E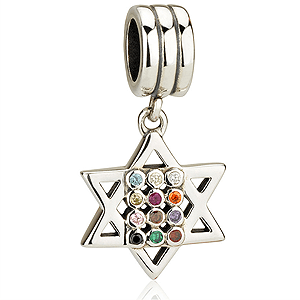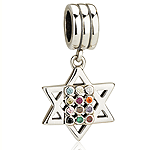 Stock Review
Length:6.5 inches Materials: - In Stock
Marina Jewelry Hoshen Hanging Bracelet Charm
Sterling Silver with 12 small stones
Beautifully crafted charm to be worn with the Sterling Silver Charm Bracelet by Marina. The charm is made of 925 sterling sliver and has the highest qualitty finishes. Can be worn alone on the bracelet or with any combination of other Marina Bracelet Charms -- or even on a necklace chain.

The Hoshen stones represent the 12 Tribers of Israel. They were first worm by the High Priest Aaron on his breastplate. Today the Hoshen stones are beautiflul reminders of the original 12 Tribes and the Israelites of long ago.
Review this product
Please log into your account to Add Your Comment.