Star of David Chai Hanging Bracelet Charm, Sterling Silver. 25% OFF*
Marina Jewelry Bracelet Charm, Star of David with Chai Hanging Charm, Sterling Silver. Fits Pandora Bracelets! *Regular Price $28.50
Item # : BR100AL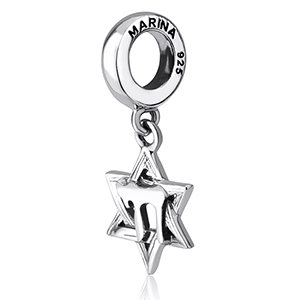 Stock Review
Marina Jewelry Sterling Silver Star of David Chai Hanging Bracelet Charm

The Star of David is probably the most recognizable symbol in the Judaic faith. For so many is represents the roots of faith tracing back to King David and all that accomplished in the name of the One True God. The Chai is a Hebrew symbol and word that means "life". By combining the two the wearer is stating that faith in God lives.

This bracelet charm is carefully crafted from sterling silver. It was made in Haifa in the northern district of Israel at Marina Jewelry studio.
Review this product
Please log into your account to Add Your Comment.