Using Dead Sea Products for Your Skin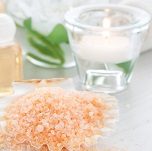 Minerals are an essential ingredient when it comes to caring for your skin. As your skin ages, it loses its ability to produce those minerals on its own. The result is dull, aged skin. The solution to this problem can be found in the waters of the Dead Sea.
Recognized as the lowest place on earth, the Dead Sea has been attracting visitors to its shores for centuries. Suitably called Yom HaMelach in Hebrew—or the Salt Sea—the minerals found in the Dead Sea are known for their healing attributes. The most notable are calcium, magnesium, sulfur, potassium and sodium. The combination of these minerals makes Dead Sea salts the ideal ingredient for skin and body products.
While thousands travel to the Dead Sea annually to take advantage of these healing properties, there are also many suffering people who cannot make the journey. That is the reason for developing Dead Sea cosmetics. Products from the Dead Sea include black mud, sea salt, and a wide variety of creams that contain minerals of the Dead Sea. Some products from the Dead Sea are solely therapeutic for serious ailments while other cosmetics from the Dead Sea offer solutions for aging skin, dryness and skin care all while maintaining your skin's chemical balance.
Dead Sea salt is recommended for easing a multitude of conditions. It leaves your skin soft and smooth at the same time it assuages pain linked to rheumatism, Eczema and Psoriasis. Just pour the salts into your bath water, lie back and let the minerals work their magic. Edom Dead Sea bath salts (Apple Blossom Scent) will relax and revitalize your mind and body. Its gentle apple blossom aroma will alleviate stress and tension as the minerals work to promote your blood´s circulation and offer relief to aching muscles and joints. Tropical Coconut Vanilla, Lovelight Lavender, Lemongrass and unscented Dead Sea Salts are also available.
Spreading Dead Sea mud directly on your skin is another way to apply Dead Sea minerals. This product, known for stimulating, tightening, cleansing and invigorating your skin, is the primary ingredient in many other Dead Sea products. Edom Deep Sea Mud Soap is rich in Dead Sea minerals and olive oil and contains no animal fats. Additional Dead Sea Mud products include: Edom Dead Sea Mud Mask, Edom Mineral Black Mud, Ahava Purifying Dead Sea Mud Mask and Mud Shampoo Minus 417.
Cosmetics from the Dead Sea are available in a wide range of forms. The most common are creams, cleansers, serums and masks. Many of these facial products emphasize putting an end to the aging process and helping users have younger looking skin by maintaining its elasticity and moisture. You can choose from a wide selection that includes rich eye cream, anti-wrinkle serum and cream, whitening mask and soap for dark or uneven skin tones and skin discolorations, moisturizers and anti-aging cream.
Products from the Dead Sea are not limited to your face. There are many excellent Dead Sea products for your body, too. They include body lotion, shower gel, salt soap and scrubs, hand, feet and body creams and body butter. They all will leave your skin feeling silky soft and looking beautiful. Dead Sea Mud and Salts also cleanse your body and rejuvenate its appearance. For a healthier, more homogenous skin texture combine several Dead Sea body products.
Additional Benefits of Dead Sea Beauty Products
Dead Sea products also can help fight acne, reduce itching caused by dry skin and slow down your skin's aging process. They can even strengthen your bones, teeth and nails.
JesusBoat.com offers a wide variety of products from the Dead Sea from established and reliable Dead Sea cosmetics companies. They all have good reputations and are known to successfully treat your skin.
---