Parashat Vayera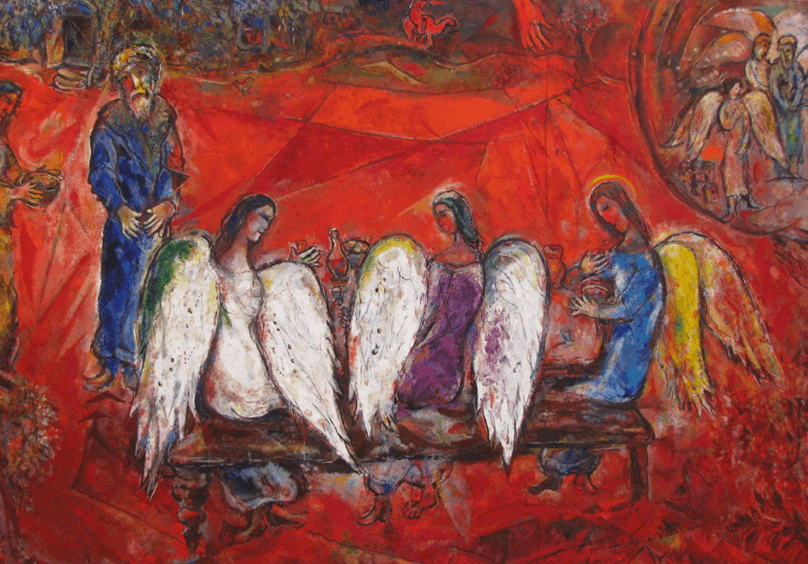 Image: Abraham and three Angels, 1966 - Marc Chagall
Parashat Vayera is the fourth weekly Torah portion in the Book of Genesis. In it, the newly renamed Abraham and Sarah confront many of the same challenges as in the previous portion: kinsmen and neighbors in trouble, lascivious kings and strife at home; but the birth of Isaac changes their perspective.
In Chapter 18, Abraham receives visitors who have come to inform Sarah that she will become a mother in a year's time, by the grace of God. The revelation that Abraham will have a son who will carry on his legacy means that God can now reveal His plans to punish Sodom for the innocents who have been wronged within it. Abraham bargains with God; if 50, 45, 40, 30, 20 or even 10 righteous people live in Sodom, the area should be spared in their merit. God agrees.
However, as we see in Chapter 19, even this minimal level of decency is not to be found in Sodom. The divine messengers arrive in the city and are taken in by Lot, but the citizens soon arrive to demand that he turn his guests over to be violated. Lot refuses, and the angels must miraculously save him from the mob, telling him to flee with his family. Abraham, about to be the father of a great nation, must part from the last remnants of his old family.
In Chapter 20, Abraham and Sarah journey to Gerar, ruled by Abimelech, King of the Philistines. Like Pharaoh, Abimelech abducts Sarah, but this time God speaks to the monarch, telling him that it is Abraham the Prophet (the first use of this term) who must pray for Abimelech to be spared. Both Abraham and Sarah earn the king's respect. This lays the groundwork for a treaty between Abimelech and Abraham in the next chapter, at the new settlement of Beersheba.
In Chapter 21, Isaac is born as foretold. As he grows, Sarah sees that Ishmael's presence is a problem. God confirms that Ishmael and Hagar must be sent away. This is yet another hard choice that Abraham must make for Isaac. Ishmael may be his son, but Isaac is to be his heir.
The climax is Chapter 22, the Binding of Isaac. God asks Abraham to make the ultimate sacrifice and bring Isaac up on an altar upon Mount Moriah. However, an angel stays his hand at the last second, proving that God does not desire human sacrifice, but the dedication of one's heart. Abraham offers a ram instead, and its horns become a symbol of devotion to God for posterity.
The portion from the Prophets comes from the fourth chapter of II Kings, which tells the story of the prophet Elisha, who prays for a childless woman with an elderly husband to have a baby — even miraculously saving its life years later. This echoes the story of Isaac.
---