Passover Approaches!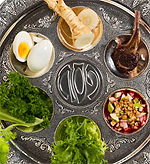 So...

you are thinking about hosting a Passover Seder! It is exciting and daunting at the same time. Whether is a small Seder with just your immediate family, a large Seder with extended family and friends or you are organizing a huge community Seder, you will need to be organized.
We would like to offer you some tips to prepare for hosting a Passover Seder.
With the proper planning and enthusiasm your Seder is sure to be memorable.
Inviting your Guests

If your guests are unfamiliar with the traditions of Passover, give them plenty of lead time so they will know which date to keep free. Those who are new to celebrating Torah based holidays may not be aware of the changing date of Passover and the celebratory Seder meal. Invite those who will enthusiastically participate in the Seder as it is an interactive event. Once you know the number who will attend the planning is more structured.
Plan you Menu

There are plenty of options for the Passover meal. However, there are six foods that are required for the Seder Plate. These are a hard-boiled egg, a shank bone, bitter herbs, the vegetable, the sweet paste and the second bitter herbs. And of course, a package of matzah crackers is required for the Seder. For precise details of these foods, please see our past newsletter "Food for Thought."
As for the meal itself, pretty much anything goes as long as it does not contain Chametz – any products made from wheat, barley, rye, oats, and spelt (with the exception of matzah products as these are made under strict Rabbinical supervision to ensure the grain does not rise). If you are interested in serving and Israeli feast we recommend the cookbook, "Simply Israel" by T. Gila Levine (click picture below). In the index look under Matzo for Passover recipes, or just browse the book for Chametz free recipes.
Kosher wine is also a must have on the Passover menu. Israeli wines are an excellent choice for Passover, but any Kosher wine will be adequate. For those who do not consume alcohol, kosher grape juice will also work.
Think about your Table

Your table will need to be set with your finest tableware for the Seder. This meal is a big deal so the table should reflect Passover's importance. Additionally, there are a few essential pieces for the table that are not for every-day use. Many families decorate their tables with Jerusalem themed tableware to represent the idea of "Next year in Jerusalem."
The first is the Seder Plate. This holds the 6 traditional foods mentioned in the previous section. The Seder Plate has a specific place for each of these foods.
Next is the Matzah Plate. This is a square plate that holds all the matzah crackers needed throughout the Seder. It is important they have a place of prominence on the table. Furthermore, having a Matzah Cover is a nice addition to the table. This holds the three ritual pieces of Matzah.
A Kiddush Cup is also an important element of the Passover table. The Kiddush Cup is used to hold the four cups of wine which correspond to the four expressions of redemption that G-d uses in describing the Exodus (Ex. 6:6-7): "I will take you out…", "I will save you…", "I will redeem you…", "I will take you as a nation….".
Some people like to have a special cup for Elijah. This cup is filled with wine and not touched throughout the meal. The Elijah's cup represents the fifth expression that follows immediately afterward: "And I shall bring you into the land…"
There are other items that can be used during the Seder such as a hand watching pitcher and small dishes for salt water.
Relax

No matter what actually happens at your Seder, remember you are there to celebrate freedom and the birth of the Nation of Israel. We are commanded by God to mark this day with a feast in accordance with His instructions. As long as we do this, we honor God.
Order Now

JesusBoat.com has all you need for your Passover Seder

to see everything in our Passover Shop

10% Off

All the items in our

Passover Shop

Enter this Coupon Code when checking out.

PASSOVER10

Coupon Expires: April 10, 2015
---
Welcome!
The inspirational gift store JesusBoat.com is dedicated to helping your with your spiritual walk. Jesus Boat Learning Center was created to provide you a plethora of information about Israel, Judaic tradition and holidays and your Jewish Roots! Click on the tabs to start learning...
BLOG ARCHIVE