The Top 20 Best Christian Gifts from Israel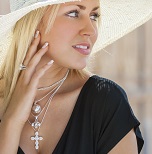 There are many choices when it comes to buying Christian gifts from Israel. One that is carefully selected can help the recipient delve deeper into the Christian faith. It also can serve as a keepsake and a reminder of the special moment they experience the sacrament for which it was given.
Here are our top twenty best Christian gifts from Israel:
1. Gethsemane Holy Land Elements Gift Set: This perfect baptismal gift includes one bottle of Olive Oil from the Galilee, Holy Soil from Jerusalem and Holy Water from the Jordan River. Gift sets featuring Yardenit—The Jordan River Baptismal Site and the Mount of Beatitudes also are available.
2. Scented Jordan River Holy Water: The Jordan River is said to be the spot where—led by Joshua—the Children of Israel crossed the river. It's also where the prophet Elijah began making prophecies. John the Baptist chose this place for his activities and called upon the wandering peoples of the desert to become purified of their sins by bathing in the river's waters. Bottled Holy Water comes with Certificate of Authenticity.
3. Olive Wood and Pewter Plated Crucifix with 4 Holy Land Elements: Comes with Catholic Olive Wood Cross, Pewter Plated Crucifix, Vials of Holy Soil, Jordan River Water, Galilee Olive Oil and Incense. Crucifix comes in two sizes. Certificate of Origin included.
4. Crown of Thorns: Plaque can be mounted on a wall or table. Made from authentic thorny bush grown in Jerusalem. Available in English or Spanish. Certificate of Origin included.
5. Ten Commandments: Engraved on Holy Land Olive Wood. Available in Hebrew and English.
6. Rosaries: These make wonderful gifts for first communions and confirmations. Choose from genuine olive wood from the Holy Land, olive wood and pewter or olive wood and silver plated. Certificate of Authenticity included.
7. Candle Holders: Olive wood candle holders are engraved with The Lord's Prayer, an image of the Last Supper, Psalm 23 ("The Lord Is My Shepherd"), Jesus Fish, God Bless Our Home and the Ten Commandments. Tea lights included.
8. Wooden Boxes with Lids: Olive wood box are engraved with the image of Jesus and his Disciples at the Last Supper, Psalm 23, The Lord's Prayer, Noah's Ark and God Bless Our Home.
9. Holy Water Pendant: Jordan Water Glass Pendant features a gold plated cross on top. Also available in a cross bottle or in a decorative bottle.
10. Crucifixes: Olive wood cross with Crucifix Cut-Out comes in three sizes. Certificate of Origin included. Also available are an olive wood cross with soil from Bethlehem, water from the Jordan River, pure olive oil and incense; olive Wood cross with a vial of Holy soil and water from the Jordan River.
11. Pendants: Choose from a delicate cross pendant made of Rhodium; gold colored with clear crystals setting; 16-inch chain included; or cross pendants duo. One cross is textured and gold colored. The smaller Cross is set with clear crystals. Crosses contrast and accentuate each other. Pendant is made of Rhodium and clear crystals. 16-inch chain included.
12. Wood carving of Jesus's face: Made of Holy Land wood. Available in two sizes.
13. Nativity Scene and Ornaments: Small olive wood nativity scene, set of six olive wood ornaments (Certificate of Origin included) or a single natural olive wood bark ornament with unfinished edge and ribbon hanger would make nice Christmas gifts.
14. Praying Hands: Choose from Praying Hands Book Holder or Praying Hands. Made of Holy Land olive wood. Bookends available in two sizes to fit the English and Spanish Olive Wood Bibles.
15. Books: Life at the Time of Jesus, In the Footsteps of Jesus Christ, Jesus Is Born and The Holy Bible are just some of the good reads.
16. Roman Glass Jewelry: Handmade in the Golan Heights, pieces include cross necklaces, pendants, bracelets and earrings.
17. Flavors of Israel: Taste the flavors of Israel with pure honey, Spice of Life Mustard Seed or Dead Sea Salt with Garlic and Dill.
18. Just for Kids: Kids will enjoy the Animals of the Bible Memory Game, the Baby Moses Biblical Puzzle and the Set of Six Biblical Children's Books.
19. Anointing Oils: Available in a variety of scents including Rose of Sharon, Lilly of the Valley and Myrrh.
20. Jesus Boat Online Gift Card: Not sure what to buy? Let you friends or family member choose their favorite Holy Land gifts by themselves a Jesus Boat online gift card!
We trust you will find our products to be of the highest quality. We pray that each item will be a blessing to all who buy, give and receive.
---