The Roots of the Olive Tree and Roots of Faith

Those who visit Israel will come across olive trees everywhere: on the country's national emblem which is framed by two olive branches, on the many streets signs that bear the tree's name, and in the country's many forests, where olive trees – some very ancient - proudly grow. The presence of the olive tree in modern Israel symbolizes its deep connection to the historical and cultural heritage of the Holy Land.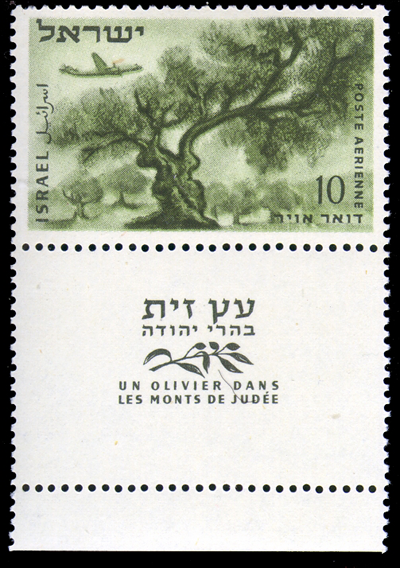 The Olive Tree on an Israeli Stamp. Source: Wikipedia
In the Hebrew Bible, the olive tree is mentioned as early as the story of Noah, who learned of the end of the Flood from the olive leaf brought to him by the dove. The image of the olive leaf carried by the dove has become a symbol of the hope for peace ever since. Olive is also listed in the Hebrew Bible as one of the seven species – the agricultural products of the Land of Israel.
In the New Testament, Paul the Apostle uses the olive tree as a powerful allegory in his Epistle to the Romans. Comparing the non-Jewish Christians to the branches of an olive tree, and the Jews to the roots of the tree, Paul has warned Christian believers: "Boast not against the branches. But if thou boast , thou bearest not the root, but the root thee" (Romans, 11: 18). Through the olive tree, Paul has reminded Christian believers of the roots of their faith.
The oil produced from olives has played an important role in the ancient world, and it also had a great religious significance. The kings of Israel were anointed using olive oil, and it was also used for lighting the Menorah in the Temple of Jerusalem – the miracle of the single-day oil supply that lasted for eight days is celebrated each year in the Jewish holiday of Hanukkah.
If you want to feel some of the olive tree's heritage, a visit to forests of Israel is highly recommended. The tree's great strength made it particularly durable to the many hazards of time and weather, so many of the olive trees you'll see in your trip are very ancient, and some were witnesses to the land's rich history. While visiting Israel, you can also experience the olive harvest and traditional oil production. It gives you a true chance of connecting with the roots of your faith – the same roots spoke of by Paul the Apostle.
Making Olive Oil in Israel

---
Welcome!
The inspirational gift store JesusBoat.com is dedicated to helping your with your spiritual walk. Jesus Boat Learning Center was created to provide you a plethora of information about Israel, Judaic tradition and holidays and your Jewish Roots! Click on the tabs to start learning...
BLOG ARCHIVE