Rosh HaShannah 5775!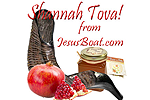 Waking Us Up
The Call of the Shofar
The Jewish New Year has arrived again. This special holiday is called Rosh HaShannah in Hebrew which means "head of the year". However, in the Torah (Numbers 29:1) the Jewish New Year is referred to as Yom Teruah, the Day of Trumpeting. The trumpeting is meant to be done with a shofar, a traditional musical instrument made from antelope or rams horns.
The shofar is a remarkable instrument and an important part of Rosh HaShannah traditions. With its pure and piercing sound, the shofar awakens our souls and reminds us of the responsibilities of the holiday and its providence.
At Rosh HaShannah we seek forgiveness of our sins from others and then from God. The sound of the shofar is created by our breath, just as our prayers are carried to God on our breath. With this same breath we ask for forgiveness and to be inscribed in the Book of Life.
The shofar blast produces a superlative sound which is carried to God as it rises above our cognitive and vocal abilities. It is the sound that accompanied the giving of the Torah, the battle of Jericho and at the Western Wall during the 1967 reunification of Jerusalem.
Infused with the spirit of God, on Rosh HaShannah the shofar is sounded 100 times. These are completed in three different sounds and structured in a prescribed way.
The composition of the shofar sounds at Rosh HaShannah are smooth, broken, and smooth again. The first smooth uniform tone reflects the original upstanding and untainted condition of Man and Woman upon God's creation. The broken sound represents the altered condition of Man and Woman as they stumbled in sin, a condition we continue today. The third straight and once again smooth tone represents the world to come without sin and strife.
May we all have the opportunity to hear and heed the blast of the shofar. Let the many profound messages of the shofar penetrate our souls.
May you be inscribed in the Book of Life
for a year of health and peace.
Blessings for the New Year!
Check out this video to hear the shofar blasts of Rosh HaShannah.
In celebration of the Jewish New Year our offices will be closed from Wednesday, 24 September through Saturday, 27 September 2014.
Shanah Tova!
---
Welcome!
The inspirational gift store JesusBoat.com is dedicated to helping your with your spiritual walk. Jesus Boat Learning Center was created to provide you a plethora of information about Israel, Judaic tradition and holidays and your Jewish Roots! Click on the tabs to start learning...
BLOG ARCHIVE