Welcome Year 5774!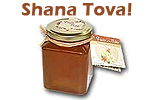 30% OFF
Current Price of Medium and Large
Rams Horn Shofars
Medium Polished

Retail Price $44.38

Current Price $32.88

YOU PAY TODAY

$ 23.02

Large Polished

Retail Price $70.68

Current Price $59.18​

YOU PAY TODAY

$ 41.43

Sale ends Yom Kippur, Sept 14, 2013

Discount on polished finish only
Why is the shofar so important to the Jewish New Year? Read here!
JesusBoat.com also has a large variety of exciting products
to make your High Holidays inspirational.
2013-2014

Jewish Calendars

Colorful Jewish calendars featuring the sights and natural beauty of Israel include all the Jewish holidays and Shabbaton in English and Hebrew.

Israeli Ceramics by Domar Artists

One-of-a-kind ceramic creations are world famous for their extraordinary beauty and stunning hand painted decor in sterling silver with white and gold platinum.

Shofar of Zion Scripture Scarf

A scarf celebrating the blowing of the shofar.Three Biblical verses invite Believers to blow the shofar in English and Hebrew: Psalms 150:3, Joel 2:15, Jeremiah 51:27.
Rosh HaShannah?

In Numbers 29:1 G-d commands us, "On the first day of the seventh month hold a sacred assembly and do no regular work. It is a day for you to sound the shofars." This day is Rosh HaShanah, the Jewish New Year. While this is a beautiful and inspirational way to begin each year, what is the deeper purpose of sounding the shofar at this time?

It is meant to be a wake –up call for all those who are sleeping. G-d is calling them to arise from their slumber and reflect on their actions, examine their sins and good deeds, address those make amends, make peace with each and every person wronged and remember and honor The Almighty.

So on Rosh HaShanah the shofar cries out 100 times to shake our souls. From this moment until 10 days later on Yom Kippur all the inhabitants of Earth pass before G-d's judgment. On Yom Kippur each of our fates is sealed in the Book of Life. Henceforth, listen intently to the shofar. It calls us to return to G-d and the path of righteousness so to be blessed with G-d's divine grace.

About the Rams Horn Shofar

The rams horn shofar is considered by many to be the more genuine shofar. When Abraham was on the verge of sacrificing his son, Isaac, G-d sent an angel to stop him. Abraham looked up and saw a ram caught by the horns in the thicket. This ram was provided by G-d for sacrifice in Isaac's place.

Some say than Abraham took the horns of this ram, cleaned them and made the first shofar. The rams horn shofars are preferred for use on Rosh HaShanah because they serve as a reminder of Abraham's devotion as we ask G-d for redemption for our sins.
---
Welcome!
The inspirational gift store JesusBoat.com is dedicated to helping your with your spiritual walk. Jesus Boat Learning Center was created to provide you a plethora of information about Israel, Judaic tradition and holidays and your Jewish Roots! Click on the tabs to start learning...
BLOG ARCHIVE