Sterling Silver and Roman Glass Earrings by Michal Kirat
Michal Kirat Jewelry. Sterling Silver and Roman Glass Earrings.
Item # : ER035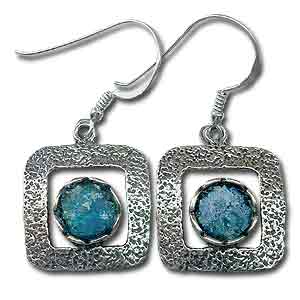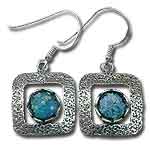 Stock Review
Earring Style:Dangling - In Stock
Sterling Silver Roman Glass Earrings designed by Michal Kirat
Jewelry handmade in the Golan Heights.

The centerpiece of Michal Kirat`s jewelry is colorful and unique shards of glass which date back to the period of the Great Roman Empire in the 1st century BCE. The glass is unearthed in Israeli archeological sites and has been termed, Roman Glass. All settings are made from 925 Sterling Silver.

She uses only authentic shards of Roman glass. Not every piece can be made into jewelry, so she carefully cleans and sorts them correctly. Each shard that passes her quality control is then carefully cut to the shape of the desired design on the jewelry piece. This makes craft of creating Roman glass jewelry a unique one. Every piece becomes a "one of the kind ".Click here for more information about Roman Glass!

*Please,note the colour of glass may vary.

*Includes Certificate of Authenticity.

*Roman Glass does not like water.
Please do not get your Roman Glass wet.
Review this product
Please log into your account to Add Your Comment.