Round Sterling Silver and Roman Glass Earrings
Round Dangling Sterling Silver and Roman Glass Earrings
Item # : ER043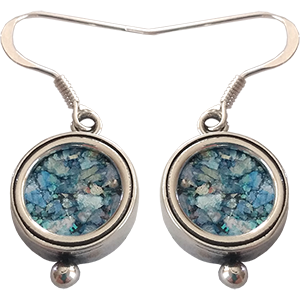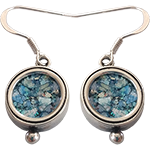 Stock Review
Earring Style:Dangling - In Stock
Round Sterling Silver and Roman Glass Earrings
Dangling Roman Glass earrings in round sterling silver setting.

Setting is textured all around and ends in three ball-like silver drops somewhat alluding of the shape of the Pomegranate.
The glass changes hues as the light breaks on its surface.

Height: 3/4 inch / 1.8 cm

Roman Glass is a marvelous piece of glass from the time of the Romans. Found in archaeological excavations around the Holy Land, it has appealed to many as it was incorporated into Roman Glass Jewelry pieces.

To learn more about Roman Glass and how it should be treated, please see our article about Ancient Roman Glass.

Review this product
Please log into your account to Add Your Comment.