Our Top Israeli Artworks Made of Silver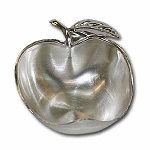 Israel has always been rich in artistic expression and has always played an important part in Israeli culture. Its artists have been strongly inspired by Biblical and Zionist subjects. While styles of art in Israel change and evolve, mix and mingle with other cultures, the influence of the Bible and the Land of Israel are constant.
Israel Art and You
Jesus Boat features a variety of Israeli artworks made of silver. When purchasing one of these pieces, it is important to buy what you like. You should be inspired by the work at the same time it stirs something in your soul.
We offer an assortment of miniature figurines that are designed in the Holy Land and inspired by Jewish tradition and the beautiful city of Jerusalem. Our selection of silver figurines includes everything from practical napkin holders and rings and apple and honey dishes to decorative miniature models of the Second Temple, the Holy Covenant and the Jerusalem peace doves. If you are searching for collectibles from the Holy Land, our figurines can be a lovely addition to your collection and a wonderful way to remember the Holy city of Jerusalem at the same time!
Here are our top Israeli artworks made of silver.
Shofar Player Silver Mini-Figurine: This silver plated shofar player comes in two sizes. The extra small figurine stands 3.5 inches/9 cm and the small statue stands 8 inches/20 cm.
The Lion and the Lamb Silver Plated Mini-Figurine: This statue is available in two heights: small has a base measurement of 5½ x 4 inches/14 x 10 cm and stands 3 inches/7.5 cm; and large has a base measurement of 7½ x 4 inches/19 x 10 cm and stands 4 inches/ 10 cm.
Shofar—Jerusalem: This beautiful miniature will look great on your mantel. A beautiful silver plated miniature shofar showcases scenes of old Jerusalem with gold highlights. Available in large and small sizes.
Fiddler on the Roof Miniature: Ever since Marc Chagall drew a violinist perched improbably on a small roof, the "Fiddler on the Roof" has been an iconic Jewish symbol. This silver plated miniature figurine has gold highlights and comes in small, medium and large sizes.
Two Men Carrying Grapes: This beautiful miniature illustrates the biblical spies returning from their scouting trip to Israel carrying a bunch of grapes on their shoulders. Use it as a paperweight or showcase it on your mantle. Silver plated with gold highlights, it is available in two sizes: large and small.
Jerusalem Napkin Rings: These silver plated napkin rings are decorated with the old city of Jerusalem. Set of 6.
Jerusalem Napkin Holder: This wonderfully ornate napkin holder is silver plated with highlights of gold and can also be used as a letter holder.
Holy Covenant Miniature: This striking figurine shows four men carrying the Holy Covenant on their shoulders and a man walking in front of them blowing the shofar. Silver plated with gold highlights, they are available in large and small sizes.
Jerusalem Dove: This stunning figurine shows old Jerusalem symbolically resting on the wings and body of a dove of peace. Silver plated with gold highlights. Available in both large and small sizes.
Moses and the Ten Commandments: This attractive figurine illustrates Moses holding the Ten Commandments. Silver plated. Available in small, medium and large.
Second Temple: This beautiful miniature boasts a beautiful silver plated Second Temple with gold highlights.
Apple and Honey Dish: The perfect way to decorate your table for Rosh Hashanah. Silver plated with gold highlights with Jerusalem motif and a "Shana Tova" blessing that means "Happy New Year."
We trust you will find our products to be of the highest quality. We pray that each item will be a blessing to all who buy, give and receive.
---