Modern Gifts from the Holy Land That Were Used in the Old Testament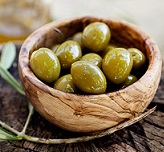 Located in the Middle East, the Holy Land is known for its religious and spiritual connections to Judaism, Christianity and Islam. Millions of visitors make the trip every year to this one-of-a-kind holy place so they can experience these spiritual and biblical connections. Generally, those who make the pilgrimage to the Holy Land go to the three main locations: Jerusalem, Nazareth and Bethlehem. These holy cities are the most sought after when it comes to meaningful gifts and unique souvenirs from the Holy Land.
Referred to as special places in the Old and New Testaments, Jerusalem and Bethlehem are known for their olive trees and their contribution to religious and spiritual gift items. As a result, the Holy Land has become popular throughout the world as a place to find religious items made from olive wood. There you can purchase Christian and Catholic religious items, including Christmas ornaments, nativities, jewelry, necklaces, crosses for women and men, crucifixes, rosaries, pendants, statues and much more.
The Significance of Olive Wood Products
The olive tree represents the Holy Land more than any other plant. Similar to the Holy Land, it is lasting and unwavering. Exuding different symbols and statements, the olive tree plays a prominent role in the Old Testament. It is referred to in I Kings 6:23, Luke 22:43-44 and Romans 11, to name a few. Olive products (like olive oil and olive wood) were used to worship God and anoint believers, as referred to throughout the Bible.
Native to the Holy Land, some olive trees date back thousands of years. Those found in the Garden of Gethsemane are 2,000 years old. It is illegal to destroy the olive trees grown in the area, particularly in the nearby hills of Jerusalem and Galilee. Since it is against the law to destroy one of these Biblical trees, they are not cut down to make olive wood products. Instead, they are made from the branches cut from the olive tree to allow for its healthy growth (otherwise known as "prunings)."
Modern Day Gifts from the Holy Land
JesusBoat.com carries a diverse selection of olive wood products. No two are alike. Each one has its own distinctive textures and shades. You can choose between various shaped wood boxes. Every box boasts an engraved religious image. Available in three sizes and shapes, they can be used as a jewelry or keepsake box or as a household decoration.
You also can find nativities, crucifixes, olive wood and pewter rosaries, magnets, candle holders and numerous decorative pieces. Since olive wood is hard and durable, nativities and ornaments will easily last a long time. You will find both traditional olive wood nativities that feature moving characters as well as smaller stationary nativity scenes. The Christmas ornaments come in varying sizes and designs.
In addition, there are Olive Wood Mezuzahs that display the Ten Commandments, the Tower of David and the Dove of Peace as well as English or Spanish Bibles with Olive Wood covers.
Holy Land music and documentary videos
Music can be powerful. It can inspire, energize and captivate the listener. Spiritual music takes many forms. One of the most potent is that which is made in the Holy Land. Holy Land music combines gospel and traditional Jewish music. Performed in English and Hebrew, its message is easy to understand.
You can purchase CDs of Jewish Israeli Holiday Songs, Favorite Psalms, Jonathan Settel's Arise and Have Mercy (in English and Hebrew) and Awake O Israel featuring Elana Watson. You also can buy Holy Land documentaries, including, Israel Birth of a Nation, Wars of Israel, In the Footsteps of Jesus and 1st Century Galilee Boat.
The most special component of our olive wood is that all the material and crafting comes from the Land of the Bible, the birth place of Yeshua, where He lived, ministered and rose from the dead. We trust you will find our products to be of the highest quality and we pray that each item will be a blessing to all who buy, give and receive.
---