The Seven Species of the Holy Land
The holiday of Shavuot commemorates the giving of the Torah to the people of Israel on Mount Sinai. When the Holy Temple stood in Jerusalem, people from all over the Holy Land would have brought "Bikkurim" – the first fruits – to the Temple as offering in the holiday. Jewish wisdom dictates that Bikkurim must consist only of fruits that are among the Seven Species of which the Holy Land has been blessed with.
The Seven Species first described in the Bible, in the book of Deuteronomy: "a land of wheat and barley, and vines and fig-trees and pomegranates; a land of olive-trees and honey…" (8:8).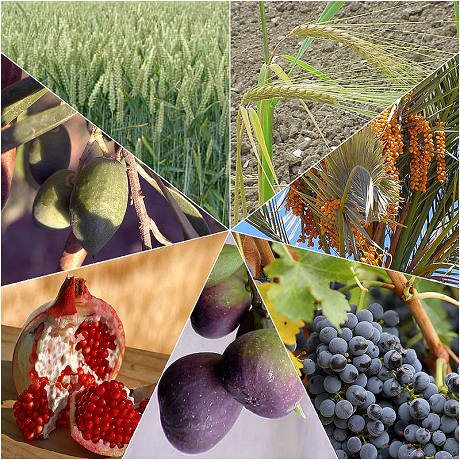 Image Source: Wikipedia
What do the Seven Species represent?
Wheat and Barley – represent the end of the harvest. The Holy Land has been recognized as one of the most ancient locations where wheat started growing and was first domesticated by man.
Vines – the Holy Land is famous for its fine vines, used to produce excellent wines.
Fig-trees – the fruit of the fig tree is among the most ancient fruits of the Holy Land and archeological evidence show that it existed in the area for over 5000 years. The fruit was served both fresh in feasts and dried as part of preserved food for long journeys.
Pomegranates – known for symbolizing wisdom, it is also eaten at the beginning of the Jewish year (Rosh Hashanah).
Olive – another fruit that has a very long history (many ancient olive trees grow in the Holy Land). Olive has served as an almost exclusive source of oil for both eating and lighting fire in the ancient world.
Honey – does not refer to honey produced by bees but rather to the date fruit, famous for its sweet taste which made it popular in feasts and also for the strong tree on which it grows, used for different arts and crafts.
These fruits represent a rich agricultural tradition of the Holy Land. Indeed, to this very day, modern Israeli villagers hold their own Bikkurim ceremonies to present their annual corps.

Learn more about the Seven Species in our Learning Center
---