Menorah or Hanukkiyah?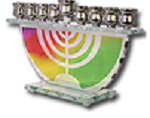 This article is written just at the beginning of Hanukkah, and one of the holiday's most notable customs is lighting of the menorah. Yet, if you'll speak of this custom with people from Israel, chances are they'll be puzzled by the use of the word "menorah". For Israelis, this word refers to the one that served to light the First and Second Temples in Jerusalem. The image of the menorah serves to this day as the symbol of modern Israel (you can read all about it in our article at the Learning Center). The menorah lit on Hannukah, on the other hand, is referred to by Israelis as "hanukkiyah" to distinguish it from the menorah of the Temple.
How are the two connected, and what is the difference between them? The hanukkiyah's design is indeed inspired by the menorah of the Temple in Jerusalem. According to the bible, the seven-branched menorah has been in use as early as the children of Israel's journey through the Sinai desert, lighting the Tabernacle which served as a place of prayer before the construction of the Temple. When the Temple was built, it became one of its greatest treasures.
In 167 BCE, Greek King Antiochus IV has announced a series of harsh decrees against the practicing of Jewish belief in the Holy Land (which, at the time, was a part of his kingdom). The Jewish struggle against Antiochus IV was a long one, but in the end, the brave rebels known as The Maccabees have managed to defeat the king's army.
Almost immediately following the rebellion, work began on restoring the Temple in Jerusalem which has been desecrated by the Greeks. A new Menorah was built to replace the one stolen by the forces of Antiochus IV, but there was no sanctified oil to light it. A search eventually revealed a small jug of oil which – in what later became known as "The Hanukkah Miracle" – provided enough oil to keep the Temple's menorah lit for eight days, until more oil could be brought to the temple.
This miracle is symbolized in the lighting of the hanukkiyah – a name coined by the great reviver of the Hebrew language in modern Israel, Eliezer Ben Yehuda. The hanukkiyah has eight branches symbolizing the eight days that the oil jug in the temple sufficed for, and on each day of Hanukkah, a number of candles is lit in accordance with the specific day of the holiday (one candle in the first day, two in the second, etc.). A ninth branch in the hanukkiyah (usually placed higher than the others) is known as the "Shamash" and holds another candle used to light the others.
The lighting of the hanukkiyah in the holiday symbolizes a proud tradition of Jewish faith and worhsip.

---