Christmas in the Holy Land: Like no Other Place in the World
There's something special about Christmas in the Holy Land. It is the only place in the world where you can actually pray and celebrate in the very locations that Jesus Christ has lived. Christmas, alongside New Year's Eve, also marks extensive collaboration between Israel and the Palestinian Authority in making the visit to the Holy Land of many Christians not only a pleasant but an unforgettable experience; it is a time of coming together for all three religions in the Holy Land, marking the hope for future peace and prosperity.



The biggest Christmas event in the Holy Land is the Midnight Mass held at the Church of Nativity in Behtlehem. The Christmas Mass at the church, located at the birthplace of Jesus Christ, is led by the Latin Patriarch of Jerusalem.
Busses are available from Jerusalem to Bethlehem, but it should be noted that the Midnight Mass is one of the most attended events during Christmas in the Holy Land, and pre-booking is required.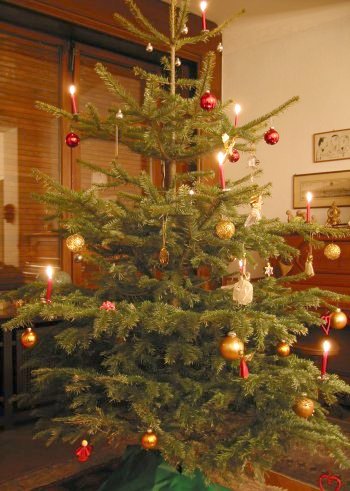 Image Source: Wikipedia

Don't be too disappointed if you cannot attend the Midnight Mass – Christmas prayer services are also held in other historical churches in the Holy Land, including churches in Jerusalem, Nazareth, Jaffa, Haifa and Tiberias. In fact, attending a different service every year on Christmas is a very rewarding experience that justifies repeated visits to the Holy Land, discovering a new location on each visit.

Other than prayers, Christmas celebrations and festival are held all over the Holy Land. Nazareth holds an annual parade, a grand event attended by thousands that marks the official beginning of the holiday celebrations and leads to the Church of Annunciation. Christmas concerts are held in both the Christ Church in Jerusalem and at the city's YMCA.

Many restaurants in Israel offer Christmas dinners, and the wide variety of culinary choices in the country assures that you can have holiday feast of your choice. If you are interested in Christmas shopping, many vendor all over the country sell Christmas memorabilia, with the biggest Christmas market opening in Nazareth. If you are celebrating privately with your family and are interested in bringing a Christmas tree, KKL – the Jewish National Fund, an organization in charge of the country's forests, offers free Christmas trees for the holiday. It is another custom that symbolizes the collaborative spirit of the holiday between the country's religions.




See also:
Top 10 Ways to Celebrate Christmas in the Holy Land:
Christmas in the Holy Land

---