JesusBoat.com Celebrates Purim in Costume!
Purim is a boisterous, happy day - it is a celebration of survival.

Purim takes place each year in the Jewish calendar on the 14th day of Adar. This year the Gregorian date is the 20th of March.Purim is the celebration of Jewish salvation as told in the Book of Esther. After the destruction of the Kingdom of Judah, the Jews were taken into the seventy-year Babylonian captivity. When ancient Persia took control, Haman, royal vizier to King Ahasuerus, planned to kill the Jews, but his plans were foiled by Esther and her uncle, Mordecai.

There are four Mitzvot or commandments to fulfill on Purim day:

1) Reading the Megillah - Book of Esther

2) Festivity and Rejoicing - Purim Meal

3) Mishloach Manot - Sending food packages to friends.

4) Charity - Giving gifts to the poor

A notable custom of Purim is dressing in costumes. The miracle of Purim was hidden and masqueraded as natural events so we, too, masquerade. Children love to dress up as their favorite characters from the Book of Esther or as characters from pop culture. Purim is a day of costume parades and carnivals. This year the JesusBoat.com staff came to work in costume. It was really a lot of fun!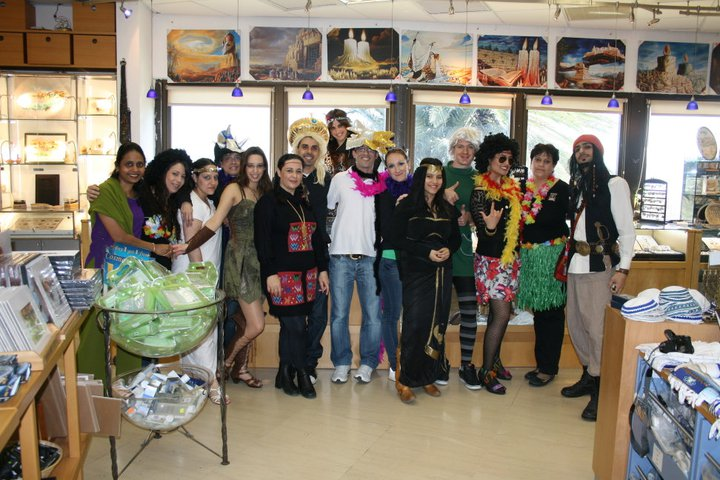 Another custom is baking and eating Hamentashen or Oznai Haman in Hebrew which means Haman's Ears. Hamentashen are a triangle shaped cookie with a filling (most commonly jelly, prunes, poppy or chocolate). The Hebrew name of this Purim treat reminds us the ears or possibly the hat of the enemy of the Jews in the story of Purim.

During the Megillah reading it is customary to make noise when the name of Haman is read. The children and adults use bought or homemade noisemakers called Graggers to blot out the name of the enemy of the Jews.
Make your Purim day a fun and jovial one!

HAPPY PURIM!!!
---