Holy Land Standard Calendar 2017
Holy Land Calendar. Gregorian 2017 Wall Calendar. 365 Pictures of the Holy Land. 10.75 x 10.75 inches / 27 x 27 cm
Item # : CL003L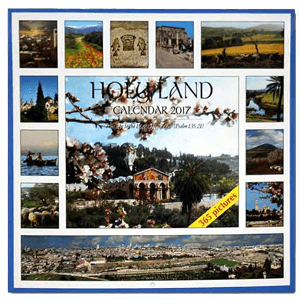 Stock Review
Size:Large Use:Wall - Out Of Stock
Holy Land Calendar 2017
Gregorian year, 12 months, January 2017 - December 2017.
A pictorial wall calendar with 365 high quality photos of the Holy Land.

Every month presents a different region of Israel with individual pictures for each day depicting religious sites, archaeological remains and
diverse landscapes representative of that region.
Size: 10.3/4 x 10.3/4 inches (27 x 27 cm)

This calendar enables a "virtual tour" in the Land of the Bible; following the footsteps of the patriarchs, the prophets and the apostles from Nazareth, Bethlehem and the Galilee through the Judean Desert, the Coastal Plain and Jerusalem.
Review this product
Please log into your account to Add Your Comment.