NOW 40% OFF!! My Redeemer Lives! Messianic Hebrew Calendar 2019
NOW 40% OFF!! My Redeemer Lives! features beautiful paintings in the mosaic style by Israeli artist Amy Sheetreet. Includes all major Biblical/Jewish holidays, Jewish & Gregorian dates, Jerusalem Shabbat candle lighting times, fascinating Hebrew Learning Pages, and much more.
Item # : CL006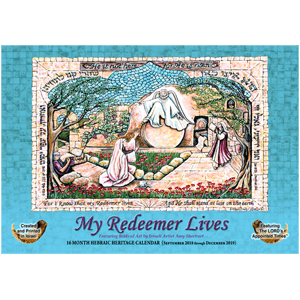 My Redeemer Lives! Messianic Hebrew Heritage Calendar, September 2018-December 2019

NOW 40% OFF regular price (retail customers only).

A beautiful 16-month (Sept 2018 to Dec 2019) art calendar from composed, designed and printed in the Galilee of Israel. It features sixteen beautiful graphic illustrations of Isaiah chapter 60 by Israeli artist Karin Foreman each month displaying a verse from Psalm 23. This stunning calendar is the perfect accompaniment to your devotions for the year. It is the most comprehensive Messianic Hebraic calendar you will find.

Please check out the pictures for examples of the calandar's amazing formating.
ALL MAJOR BIBLICAL/JEWISH HOLIDAYS ("The LORD's Appointed Times") explained in a special reference chart at back of calendar. MAJOR ISRAELI HOLIDAYS also included.

HOLIDAYS denoted on calendar in different colors in English and transliterated Hebrew as well as alternative Torah names of holidays.

All dates in both Jewish/Lunar and Gregorian/solar calendar systems, in ENGLISH AND HEBREW

References shown for all WEEKLY SCRIPTURE PORTIONS (Torah and Haftarah), plus "Gospel Portions."

SABBATH (Shabbat) beginning and ending times for Jerusalem

Fascinating Hebrew LEARNING PAGES making this much more than just a calendar.

When you are finished with the calendar, each page SUITABLE FOR FRAMING

Each calendar day has a LARGE WRITING AREA. In addition, each calendar month has one or more writing spaces for reminders and notes.
DIMENSIONS:
Open 13.4 x 17.4 inches (34 x 44 cm)
Closed 13.4 x 8.6 inches (34 x 22 cm)
Review this product
Please log into your account to Add Your Comment.