Pomegranate Pendant engraved with My Beloved
My Beloved Pomegranate Pendant, Gold Filled
Item # : PN420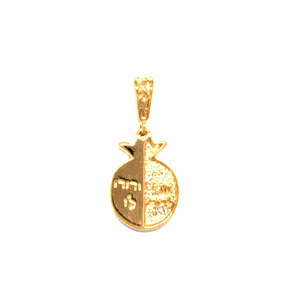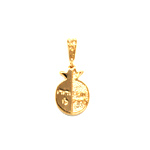 Stock Review
Size:One Size Top Color:Gold - In Stock
Gold Filled Pomegranate Pendant with Engraved My Beloved Verse
By Israeli Jewelry Designer Marina
Combining two beautiful sentiments this pendant is perfect for the woman you love. The pendant is pomegranate shaped with the romantic verse from Song of Solomon, "Ani li dodo ve dodi li" or "I am my beloved's and my beloved is mine" engraved in Hebrew lettering. The pomegranate is the symbol of abundance and success and it is coupled this romantic verse wishes the recipient a life-long love.
This Pomegranate Pendant is gold filled and engraved with a verse from Song of Solomon making it also a My Beloved pendant.
Height: 1/2 inch / 1.25 cm
Review this product
Please log into your account to Add Your Comment.