Gold-filled Jesus Jerusalem Cross Pendant
Jerusalem Cross Pendant featuring the word "Jesus", Gold-filled
Item # : PN469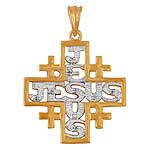 Stock Review
Material Color:Yellow Gold Size:One Size Top Color:Silver - In Stock
Gold-filled Jesus Jerusalem Cross Pendant
by Israeli jewelry designer Marina
The Jerusalem Cross exemplifies the idea that Jesus is the center of the World. This centuries old symbol of Christianity was once worn by Crusaders. Today it emblematizes the love for Jesus and for the holy city of Jerusalem that is carried in the hearts of Followers of the Way. The very form of the emblem says so much. At the center is a large cross. This represents that Jesus and Jerusalem are at the center of it all – the heart is here. In the corners of the large cross are four smaller crosses like arteries. These represent the four Evangelists who recorded the teachings of Jesus and the four directions to which they will be carried.
In this Jerusalem Cross Jesus literally is at the center. The central cross is made of the word "Jesus" up and across. This is made of beautifully textured white gold-fill. The smaller crosses are solid and made of yellow gold-fill.
Approximate Dimensions: 1 inch x 1 inch | 2.5 cm x 2.5 cm
Review this product
Please log into your account to Add Your Comment.