Inspirational Jewelry for Daily Encouragement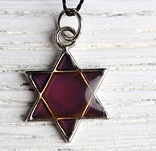 Everyone needs a little encouragement now and then. Wearing inspirational jewelry sends a message about who we are and what we stand for. When it is worn, it serves as an identifier of the person's faith and core beliefs. It also provides an opportunity to start a conversation with God.
What is Inspirational Jewelry?
Inspiration is that feeling that makes us pause long enough to appreciate something special that just might change our own life or someone else's. At any given moment, someone is inspiring another to do something different, simply by being who they are. A simple pendant or earrings may be enough to capture someone's attention or light up a room.
Our earrings are crafted by Israeli artists who incorporate traditional Jewish and Christian symbols into silver and gold with ancient roman glass and cut crystals. Some feature major symbols of faith, such as the majestic Star of David—the shape of King David's shield and the "Chai" symbol which means "Life" in Hebrew—a blessing for good fortune. The Magen David is also incorporated into the Messianic Seal otherwise known as the "Grafted In" symbol consisting of a Christian fish, the Star of David and the menorah. The symbol joins both religions;
Roman glass earrings can also be inspirational. Made in the Golan Heights, the glass is unearthed in Israeli archeological sites. All settings are made from 925 sterling silver.
From casual to classic, our inspirational pendants remain timeless. Most of our inspirational pendants include a religious symbol, such as the Grafted In, Star of David or Jerusalem Cross. Wearing these symbols can bring comfort and spiritual wholeness to the wearer. Made with either 14kt gold or 925 sterling silver, many boast other embellishments like 2,000-year old Roman Glass or cut crystals.
Messianic pendants are adorned with zircons, azurite stone, sapphires, garnets, opals and lavender, blue or multi-colored stones.
Hoshen pendants are inspired by the richly embroidered linen breastplate that was worn by Israel's High Priests. They come in sterling silver, gold filled or white gold. A combination Star of David and breastplate pendant is also available.
Christian pendants feature the most widely known symbols of Christianity. You will find a variety of gold filled and sterling silver crosses, Jerusalem crosses with a Dove of Peace, Glass Fish, Angels and the Star of Bethlehem. Wearing a religious pendant with Christian symbols is a visible declaration of faith in the ministry of Jesus.
Jewish Pendants showcase the symbols most commonly associated with Judaism. They include the Star of David, Mezuzah, Menorah, Garnet Pomegranate and Chai (the Hebrew word for "life"). Wearing a religious pendant with Jewish symbols is ideal for anyone who wants to connect with their Jewish heritage.
Eliat Stone Jewelry, the national stone of Israel, is often used as a turquoise substitute but is beautiful in its own right. Choose from gold filled earrings or a Star of David or oval pendant.
Hebrew Name Necklaces also can be inspirational. Any name can be written in Hebrew: your given name, your Hebrew name, "mother" or "sister."
Rings made of sterling silver and 14K gold with emblems of different faiths and denominations feature verses, such as "I Am My Beloved's and My Beloved Is Mine" (Song of Songs 6:3). Additional custom-designed rings with other verses are also available.
Whether embarking on a literal or symbolic journey, this jewelry is meant to inspire and encourage you and help you feel safe and strong by connecting to your faith.
Jesus Boat Shop has a diverse and rich collection of inspirational jewelry for you to choose from. Every design is expertly hand crafted by Israeli artisans and has a proudly Israeli influence. We trust you will find our products to be of the highest quality. We pray that each item will be a blessing to all who buy, give and receive.
---