Garnet Encrusted Pomegranate Bead Bracelet Charm. 35% OFF*
Marina Jewelry Bracelet Charm, Pomegranate Bead Charm encrusted with Garnets. Sterling Silver. Fits Pandora Bracelets! *Regular Price $93.80
Item # : BR100X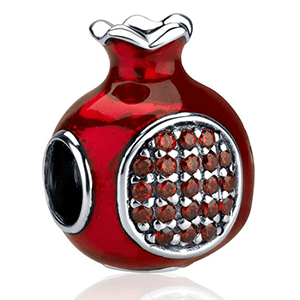 Stock Review
Marina Jewelry Bracelet Charm, Garnet Pomegranate Bead Charm
Sterling Silver with Red Enamel and Encrusted with Garnet highlights

Shaped like a pomegranate, this charm bracelet bead is a lovely representation of the Seven Species of Israel. The pomegranate has a long history in Israel and is a symbol of abundance and fertility. It is beautifully encrusted with garnets. According to Jewish tradition Noah hung a piece of large Garnet on the ark to illumine his path through the floods. This reference that gave rise to Garnet's reputation as a protective stone adorned by warriors and travelers alike to ensure their safe return home.
Can be worn alone on the bracelet or with any combination of other Marina Bracelet Charms -- or even on a necklace chain.
Review this product
Please log into your account to Add Your Comment.