The Hand of Miriam Hamsa Hanging Bracelet Charm, Sterling Silver. 25% OFF*
Marina Jewelry Bracelet Charm, Sterling Silver Hand of Miriam. Fits Pandora Bracelets! *Regular Price $28.50
Item # : BR100AE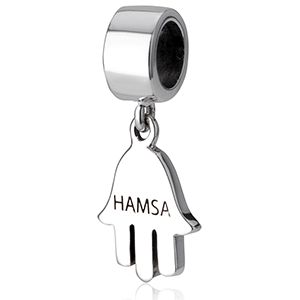 Stock Review
Marina Jewelry Sterling Silver Hand of Miriam Hamsa Hanging Bracelet Charm
The word "hamsa" is derived from the Hebrew word for five "hamesh" and the fifth letter of the Hebrew alphabet is "Hey," one of God's holy names. The number 5 has great significance and is symbolicaly represented by the five fingers on the hand. Additionally, Hamesh also refers to the fact that there are five books of the Torah. This ancient symbol can be called the Hand of Miriam as well. It is symbolic of Miriam using all five of her senses in an effort to praise God.

Charm is finely crafted from 925 sterling silver from Marina Jewelry in Haifa. This charm will fit all modern charm bracelets.


Review this product
Please log into your account to Add Your Comment.