Something Special for All!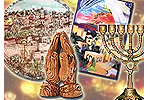 Holy Land Gift Guide
We know how stressful the holiday season can be. All the preparations and planning can be exhausting. We also know that the true meaning of these holidays lies in the connections: with family, with friends and especially with God.
However, we also know that it is a special time of year to give your loved ones a token of your appreciation and love. Finding the perfect significant gift for each person can be daunting.
This year we want to offer you a stress free solution. Holy Land products make great gifts for all kinds of people in your life. Below we present out first ever Holy Land Gift Guide. These are some of our best selling items that will surely be hits with your family and friends.
We hope you will find it useful and you will have a wonderful time shopping with us this season.
Blessings from the Holy Land !
---
Welcome!
The inspirational gift store JesusBoat.com is dedicated to helping your with your spiritual walk. Jesus Boat Learning Center was created to provide you a plethora of information about Israel, Judaic tradition and holidays and your Jewish Roots! Click on the tabs to start learning...
BLOG ARCHIVE