40% OFF! In the Footsteps of Faith Messianic Biblical Calendar 2022
40% off while supplies last! Messianic Calendar featuring beautiful pictures from around the Holy Land. Calendar dates Sept 2021 - December 2022. Open Dimensions: 11 3/4 x 16 1/2 inches | 30 x 43 cm
Item # : CL008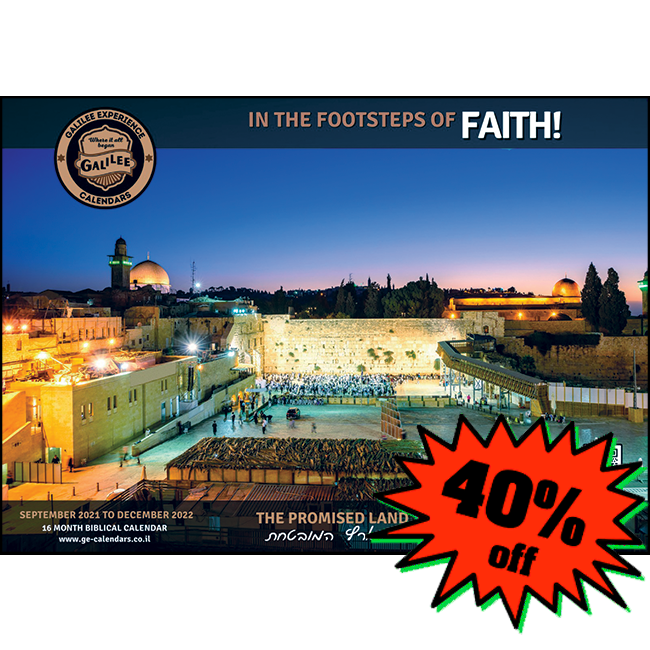 Stock Review
In the Footsteps of Faith Messianic Biblical Calendar 2021-2022

An exceptionally beautiful 16-month (Sept 2021 to Dec 2022) photographic calendar featuring the beautiful pictures from around the Holy Land. The calendar is composed, designed and printed in Israel. It features fifteen photographs that tell the story of the beauty of Israel, from the mountains in the north to the deserts in the south, from the Sea of Galilee in the east to the Mediterranean in the west, with Jerusalem always in the center. Each (Gregorian) month is accompanied by appropriate Bible verses. This stunning calendar is the perfect accompaniment to your devotions for the year.

Features of the calendar:
All major Biblical, Jewish, and Israeli Holidays marked on the correct days with a page in the back explaining each holiday.

All dates in both Jewish/Hebrew and Gregorian/secular calendar systems

Parashah, Haftarah, and New Testament Gospel portions shown on each Shabbat.

Shabbat candle lighting times for Jerusalem and well as Shabbat end times.

Each monthly picture has a scannable QR Code so you can learn more about the picture and thus more about Israel.

Fascinating map showing the Galilean events of the Ministry of Yeshua with corresponding scriptures.

Each date square is large enough for making notations to keep your personal schedule.

DIMENSIONS: Open 11 3/4 x 16 1/2 inches | 30 x 43 cm
Review this product
Please log into your account to Add Your Comment.