Simchat Torah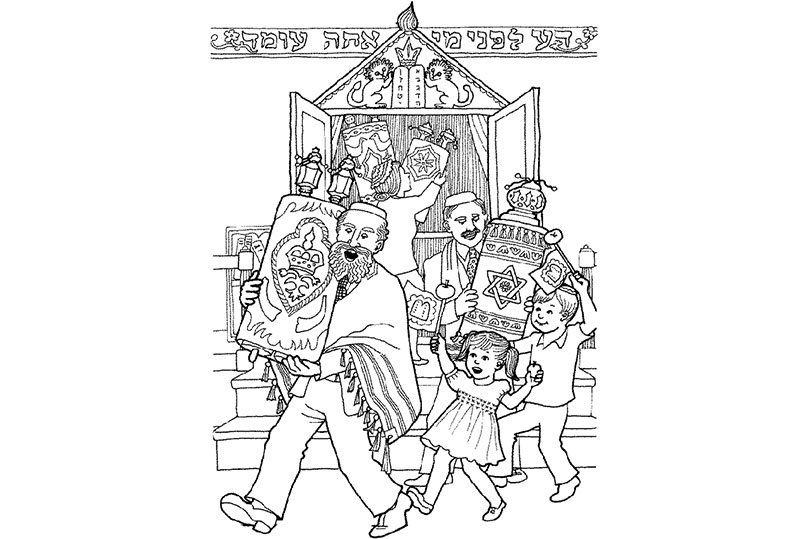 Simchat Torah or 'the Rejoicing with the Torah" comes immediately after the holiday Sukkot. It shares the day with another holiday, Shemini Atzeret.
On the same day is the holiday Simchat Torah. On this holiday the Jewish people really get to cut loose. Simchat Torah marks the completion of the annual cycle of weekly Torah readings. Each week a portion of the Torah, the first five books of the Bible, is designated to be read. On Simchat Torah we read the last Torah portion then continueimmediately to the first chapter of Genesis, showing us that the Torah a never ending circle of G-d's Word.
The completed reading of the entire Torah is a time for great celebrations. The name of the holiday, the Rejoicing with the Torah, is taken quite literally! The Sefer Torah (a Kosher Torah Scroll written by a scribe) is taken from the Ark and paraded around the synagogue. There is nonstop jubilation while dancing and singing with the Torahs. Many people are given the honor of an Aliyah, the recitation of a blessing over the Torah reading. The Sefer Torah is passed around so as many people as possible are given the honor of carrying the Torah. At this holiday even children under Bar Mitzvah age are invitedto dance and sing. Children are given toy Torah Scrolls and follow the procession around the synagogue. It is a time for unbridled joy in the Creator and His Word.
Back to Jewish Holidays
---
Welcome!
The inspirational gift store JesusBoat.com is dedicated to helping your with your spiritual walk. Jesus Boat Learning Center was created to provide you a plethora of information about Israel, Judaic tradition and holidays and your Jewish Roots! Click on the tabs to start learning...
BLOG ARCHIVE