Mimouna
One of the most recognizable aspects of Passover is that leavened food (known as "Chametz" in Hebrew) is forbidden during the holiday. For Jews of the Moroccan Diaspora, the post-Passover return to eating leavened food is celebrated on a grand scale with another single-day holiday, taking place exactly one day after the end of Passover, known as the Mimouna holiday.
There are several speculations as to the origins of the holiday's name. Some believe that the name is a mispronunciation of the Hebrew word "Emuna" ("faith"), since according to the Jewish Talmud, the month of Nisan is a time of salvation. Another common explanation is that the holiday is named after Rabbi Maimon Ben Yosef, the father of the famous Jewish Rabbi Moshe Ben Maimon (known as the Rambam).
The Door is Open for Everyone
The key custom of the Mimouna holiday is having guests at the house and visiting others' houses. Those who celebrate the Mimouna open the door of their house to everyone, and everyone else does the same for them. The result is a mass celebration that strengthens the sense of community and friendship. The holiday's traditional blessing – "Tirvehu Ve'tisadu" – means "have comfort, and give to others", reflecting the strong social message of the holiday.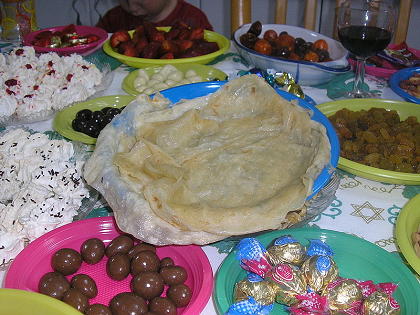 Image Source: Wikipedia
And what awaits those celebrating when they visit their friends? Food, lots of it, and especially sweets. Since the Mimouna holiday takes place immediately after Passover, the preparation of leavened food as the Mofletta (a special pancake), is reserved for a few minutes before they are served. The foods prepared in advance are non-leavened, since they are made during Passover, and include sweets made of fruits (peanuts, tonsil and date, among others). This makes the Mimouna a strong contender for the title of the sweetest Jewish holiday, alongside Purim.
In Israel, the Mimouna holiday celebrations attract thousands of visitors, from high-ranking politicians to members of all Diasporas, who attend the grand celebration of the spring.
---
Welcome!
The inspirational gift store JesusBoat.com is dedicated to helping your with your spiritual walk. Jesus Boat Learning Center was created to provide you a plethora of information about Israel, Judaic tradition and holidays and your Jewish Roots! Click on the tabs to start learning...
BLOG ARCHIVE