Yemenite IDF Velvet Shofar Bag, Long
Cool IDF shofar bag to protect your Yemenite Shofar. Army green velvet with embroidered Israel Defense Forces emblem in yellow. Available in 2 sizes.
Item # : JA0294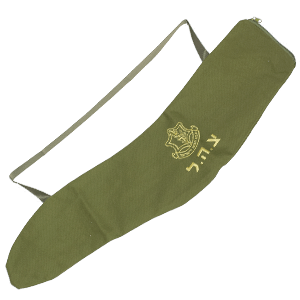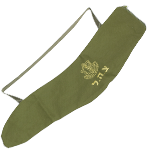 Stock Review
Color:Green Material: Size:Small - In Stock
Long IDF Velvet Yemenite Shofar Bag

Let this IDF shofar bag protect your shofar just as the mighty Israel Defense Forces protects the Land of Israel! This bag is made from army green velvet with the emblem of the IDF embroidered on side. It fits Yemenite shofars.

Zippers shut along the length of the bag for easy stowing and removal. Handle runs the length of the bag making carrying more natural.

Available in two lengths:
Small: 85 cm | 33 1/2 inches
Appropriate for shofar catalog numbers: SF104, SF105, SF106, SF107, SF108, SF109, SF110

Medium: 105 cm | 41 1/4 inches
Appropriate for shofar catalog numbers: SF111, SF112, SF113, SF114, SF115, SF116, SF117, SF118, SF119, SF120
Review this product
Please log into your account to Add Your Comment.