Shiny Nickel Plated Shema Yisrael Mezuzah
Highly polished nickel plated mezuzah with pewter accent. Mezuzah is embossed with the 'Shema Yisrael' the classic declaration of faith. Size: 5 3/4 x 1 1/4 inches | 14.5 x 3 cm
Item # : MZ002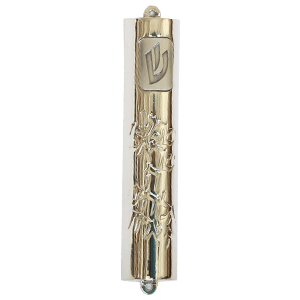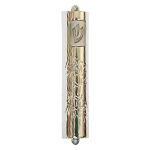 Stock Review
Color:Silver Height:6 inches Size:Large - Out Of Stock
Shiny Nickel Plated Shema Yisrael Mezuzah

This nickel plated mezuzah has a brightly polished finish and a stunning decorative design. It is embossed with the classic Jewish declaration of faith: "Shema Yisrael, Hashem Elokeinu, Hashem Echad" (Hear O' Israel the Lord is our G-d, the Lord is One) written in Hebrew. It features a lovely contrasting matte pewter plated accent with the Hebrew letter Shin ש. This loverly mezuzah will fit any home design from classic to modern.
Review this product
Please log into your account to Add Your Comment.