Ein Gedi Anointing Oils Set of 8 - Get 1 FREE!
Set of 8 Ein Gedi scented Anointing Oils. Discounted. You only pay for 7, but get 8 anointing oils
Item # : AO0028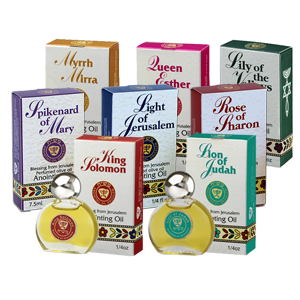 Ein Gedi Anointing Oils Set of 8
Get 1 FREE!

Buy this set and you will only pay for 7 anointing oil... one comes free.

Scents included in set cannot be altered.

Scents included:
Lily of the Valley
Queen Esther
Myrrh
Rose of Sharon
Light of Jerusalem
Spikenard of Mary
King Solomon
Lion of Judah

WHOLESALE CUSTOMERS: Do not qualify for free oil. This product is discounted at regular retail prices.
Review this product
Please log into your account to Add Your Comment.