Rafael Jewelry Silver Filigree Medallion with Amethyst
Hand-crafted in Jerusalem. Intricate Yemenite filigree work in sterling silver with a lustrous purple amethyst in the center. Please choose chain length. Diameter: 5/8 inch | 1.6 cm
Item # : SJ051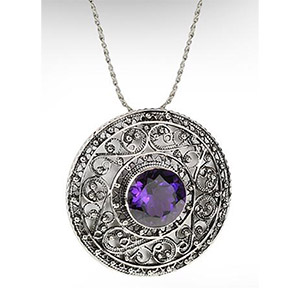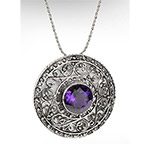 Stock Review
Chain Length (Required):19 in | 50 cm - In Stock
Chain Length (Required):21 in | 55 cm - In Stock
Chain Length (Required):23 in | 60 cm - In Stock
- Out Of Stock
Rafael Jewelry Sterling Silver Filigree Medallion with Amethyst

Filigree wsa created in Yemen for the jewelry of the royal family and today you can also have this regal design. This ancient art was passed from generation to generation and was brought to Israel by Jewish jewelers who created only the finest pieces. The amethyst is a semi-precious stone of that many wear in association with Yeshua (Jesus Christ) because of its purple color.

Please note: This jewelry is hand-crafted and made to order. Therefore, this piece will take an additional 10-14 days.
Diameter: 5/8 inch | 1.6 cm
Review this product
Please log into your account to Add Your Comment.