Light of Jerusalem Perfume for Women
Women's Perfume. Light of Jerusalem Perfume. Hand decorated bottles. 60 ml. e / 2 fl. oz.
Item # : PF005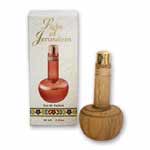 Stock Review
Gender:Women Scent:Light of Jerusalem Size:2 fl oz - Out Of Stock
Light of Jerusalem Perfume for Women

This Israeli-made perfume represents a time-honored and celebrated tradition of producing perfumes in the Land of Israel. This perfume is based on a combination of flowers and plant essences mentioned in the Bible among which are: Myrrh, Rose of Sharon, Narcissus, Mandarin, Jasmine and Lily of the Valley.

The hand-decorated bottles design is inspired by ancient perfume bottles found at archaeological sites in the Holy Land.

60 ml. e / 2 fl. oz.


"Spikenard and Saffron; Calamus and Cinnamon; with all trees of Frankincense; Myrrh and Aloes, with all the chief spices" (Song of Solomon 4:14)

"Perfume and incense bring joy to the heart" (Proverbs 27:9)

Perfumes and spices have been in use since the dawn of history. In ancient times, they were considered very expensive and precious items and were stored together with hoards of silver and gold inside palaces of kings. Historically, oils have been the base of perfumes and in many cases comprised all the ingredients of a perfume. They were mostly used for religious, medicinal and cosmetic purposes.
Review this product
Please log into your account to Add Your Comment.