Essence of Jerusalem Perfume for Women
Women's Perfume. Essence of Jerusalem.
Item # : PF004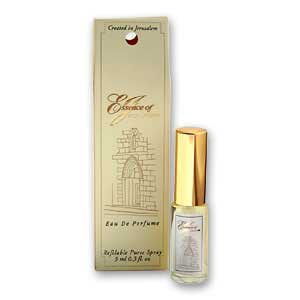 Essence of Jerusalem Perfume for Women

Using the aromatic essences of over 90 different indigenous Israeli plants, we produced a glorious perfume, Essence of Jerusalem. The fragrance of this exclusive balsmon-inspired perfume represents a subtle blend of the oriental and the classic, encapsulating the very essence of Jerusalem.
Available in three sizes:
10 ml / 0.33 fl. oz
30 ml / 1.01 fl.oz

100 ml / 3.4 fl.oz.
"Perfume and incense bring joy to the heart" (Proverbs 27:9)

Perfumes and spices have been in use since the dawn of history. In ancient times, they were considered very expensive and precious items and were stored together with hoards of silver and gold inside palaces of kings. Historically, oils have been the base of perfumes and in many cases comprised all the ingredients of a perfume. They were mostly used for religious, medicinal and cosmetic purposes.

Review this product
Please log into your account to Add Your Comment.