Nickel Grape vine Havdalah Set
Bid Shabbat a fond farewell each week with this nickel plated Havdalah Set. Designed with a bold Cross-Cut design on all its components: Havdalah Candle Holder, Spice Tower, Kiddush Cup and Tray.
Item # : HV001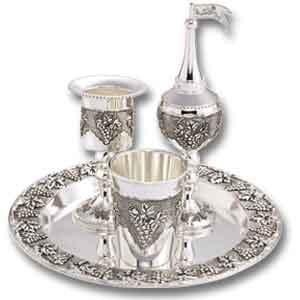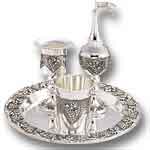 Stock Review
Material:Nickel Plated - In Stock
Grape vine Havdalah Set

Havdalah means "separation" in Hebrew and is the ceremony in which those who keep the Sabbath uses to separate Shabbat from the rest of the week. The ceremony includes blessings over wine, spices, and the light of a candle. Therefore, the Havdalah Set includes, a Kiddush Cup, a Spice Tower, and a Havdalah Candle Holder. It comes with a tray to nicely hold all the pieces.

This Havdalah Set is nickel plated and beautifully designed with a beautiful bold cross-cut design, a classic look. It is a wonderful set to bid farewell to Shabbat and welcome the coming week.

All items are decorated with design.

Tray - Diameter - 9.25 Inches / 23.5 cm
Spice Tower - Height - 8.25 Inches / 21 cm
Kiddush Cup - Height - 3.25 Inches / 8.3 cm
Candle Holder - Height - 5 Inches / 12.7 cm
Review this product
Please log into your account to Add Your Comment.