Two Handmade Shabbat Candles Orange and Blue
Lovely Sabbath Candles, handmade and dripless. Perfect for for the joy of celebrating Shabbat. Set of 2 tall taper candles. Height - 9.5 inches | 24 cm
Item # : CN012BO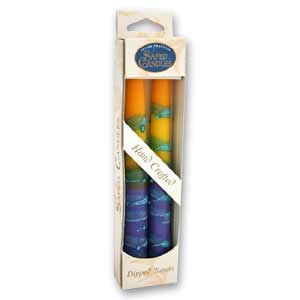 Stock Review
Tall Handmade Shabbat Candles, Orange and Blue, Set of 2
Two Kosher handmade Sabbath candles, embellished with colorful wax droplets, for lighting weekly when ushering the Sabbath.

Approximate burning time is 5 hours. For optimum satisfaction trim wicks before lighting.

Height - 9.5 inches / 24 cm .

Available in several color options. See color menu for color options available.
In the ancient city of Safed, nestled in the hills of the Galilee, skilled craftsmen create these candles to bring the light of the Holy Land into your home. Safed candles are dipped in the traditional manner and burn with a clear and bright flame. Safed Candles are a quality product, appreciated by connoisseurs all over the world.
Review this product
Please log into your account to Add Your Comment.