Oil Cups for Candlesticks, Menorahs & Chanukiot (oil not included)
Small colorless and clear plastic vessels for oil with wicks. Oil is not included. Sold in sets for Shabbat (2), Menorahs (7), and Hanukkah (9).
Item # : CN005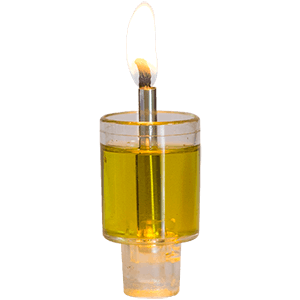 Stock Review
Color:White Package Quantity:2 - Shabbat Set - In Stock
Color:White Package Quantity:7 - Menorah Set - In Stock
Color:White Package Quantity: 9 - Hanukkah Set - In Stock
Oil Cups for Lighting Candlesticks, Seven-branch Menorahs and Hanukkah Menorahs
Oil not included.

Light your Shabbat and Holidays by burning oil as called for in the Bible. These oil cups are made from a hard plastic so they will not break, burn nor melt. Each cup comes with a metal tube through which to run the wick so it stands properly. Cups can be filled with olive oil, canola oil, most vegetable oils, fragrance oil or lamp oil.


Available in three sets:
Shabbat Set has 2 cups and wicks
Menorah Set has 7 cups and wicks
Hanukkah Set has 9 cups and wicks

Dimensions
Cup: 1 3/4" tall x 1" diameter | 4.5 cm x 2.5 diameter
Cup with Wick: 2 1/8" tall | 5 cm

Candlestick and oil not included.
Review this product
Please log into your account to Add Your Comment.