God and Pesach White Satin Matzah Cover
An embroidered Passover cover loaded with meaning. In the center of this cleverly designed cover is "Pesach" (Passover in Hebrew) turn the cover around and it says "God" in English. Also has 4 kiddush cups and circles representing Seder traditional foods. Diameter: 17 inches | 43 cm
Item # : CV025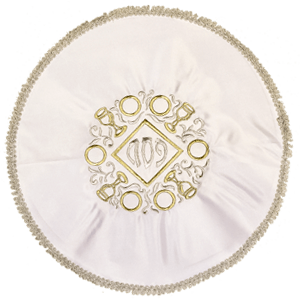 Stock Review
Color:White - Out Of Stock
God and Pesach White Satin Passover Cover

Beautiful white satin passover cover and matzah holder with the word "Pesach" (Passover in Hebrew) in the middle. If the cover is turned פסח becomes GOD -- our redemer -- in English. There is also an illustration of the four kiddush cups an 6 circles for each traditional Seder Plate food.

This cover also has three pockets to accomodate the three Matzahs for the Seder ceremony.

Dimensions: 17 inches / 43 cm

Washing instructions: Wash in lukewarm water with soft deteregents.
What are the Three Matzots?

During the Seder three matzots are placed in a bag then on the Seder Plate in honor of Kohen, Levi, and Yisraelite, the only Tribes recognized today, as a means of distinguishing them from each other.

The top matzah is referred to as Kohen, for the Kohen takes precedence in all matters. The middle matzah referred to as Levi and broken into two at the beginning of the Seder. The smaller piece is left on the plate and is later eaten along with the Kohen matzah in fulfillment of the mitzvah of matzah; the larger piece is put away for use as the afikoman.

The bottom matzah, Yisraelite is used for making the korech (the tenth step of the Passover Seder is eating matzah and maror combined in a sandwich.), so that every one of the matzot is used for the performance of a mitzvah.
Review this product
Please log into your account to Add Your Comment.