Matzah Holder
Passover Matza Holder. Four Cups of Wine.
Item # : CV013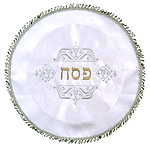 Stock Review
Color:White - Out Of Stock
Matzah Holder

Satin look with four cups of wine decoration and the word "Pesach" (Passover). This holder has three sections to hold three matzahs for the Seder.
16 inches / 40.5 cm
In our Learning Center you can read more about Passover.


Review this product
Please log into your account to Add Your Comment.