Elijah's Cup. Extra Large.
Elijah's Cup with Plate. Nickel Plated. Grapevine Design. 9 inches / 23 cm
Item # : WA157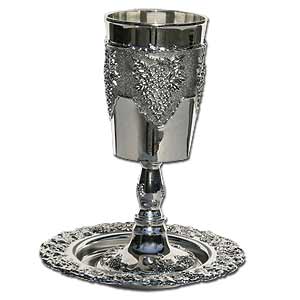 Stock Review
Material:Nickel Plated - In Stock
Elijah's Cup

This extra large wine goblet is perfect for Elijah's Cup during the Passover Seder.

Height - 9 inches / 23 cm


In Judaism, the fifth ceremonial cup of wine poured during the Passover Seder dinner is left untouched in honour of Elijah. According to tradition, Elijah will arrive one day as an unknown guest to herald the advent of the Messiah. During the Seder dinner, biblical verses are read while the door is briefly opened to welcome Elijah, who, it is further said, will resolve all controversial questions connected with the Law. In this way the Seder dinner not only commemorates the historical redemption of the Israelites from Egyptian bondage but also calls to mind their future redemption when Elijah and the Messiah shall appear.
Review this product
Please log into your account to Add Your Comment.