Nickel Plated Rope Design Hanukkah Menorah
Charming Chanukkia with nickel plated branches twisted like ropes and an elegant square base with feet. Size: 11 x 10 inches | 28 x 25 cm
Item # : CH048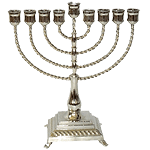 Stock Review
Height:12 inches - Out Of Stock
Nickel Plated Rope Design Hanukkah Menorah
This Hanukkah Menorah brings even more beauty to an already beautiful holiday. Made in shining nickel plating the branches are made to look like rope. The base is square with elegantly formed feet. Let this Chanukkia light up your nights of Hanukkah and bring joy to the atmosphere.
Size: 11 x 10 inches | 28 x 25 cm
Review this product
Please log into your account to Add Your Comment.