12 Ivory Handmade Shabbat Candles
Box of 12 Candles for Shabbat hand-made in Tzfat, Israel in the lovely classic color of ivory. Candles are dripless and kosher. Candle height: 5 1/2 inches | 14 cm
Item # : CN025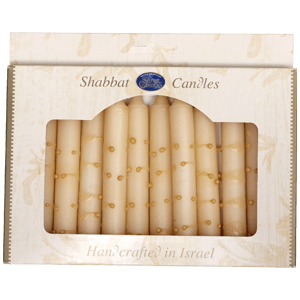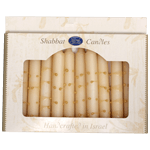 Stock Review
Color:Ivory Package Quantity:2 - Shabbat Set - In Stock
Set 12 of Handmade Shabbat Candles in Ivory

This box contains 6 pairs of Shabbat candles to use on Erev Shabbat or holidays. Each candle is expertly hand-dipped in these bright beautiful colors. They are stylized with lovely drizzles of wax making them a tactile experience as well as a visual experience. Make the beauty of the Shabbat light even more special as these Sefed Candles burn with a clear white flame. The dripless candles are kosher and made with care by locals of Tzfat, Israel. Bring the light of the Holy Land into your home every Shabbat.

On the back of the package you will find the candle lighting blessing and after-lighting supplication written in English and Hebrew.

The candles burn for approximately 3 1/2 hours.
Height: 5 1/2 inches | 14 cm

Please note: Because these candles are hand-made the colors and patterns with vary slightly between candles and packages.
Review this product
Please log into your account to Add Your Comment.