Sterling Silver Chai Dangling Earrings
Chai Earrings. Sterling Silver. Height 1/4 inch / .5 cm
Item # : ER038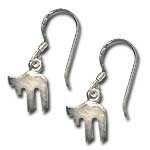 Stock Review
Earring Style:Dangling - In Stock
Sterling Silver Chai Earrings

Height 1/4 inch / 0.5 cm

Dangling earrings with an open hook.

The word "Chai" composed of the two hebrew letters, "chet" and "yud". Translated it means "Life" as in "L'chaim". In Kabbalistik tradition each letter has its own numerical value. The "Chai" number is 18, wich signifies "Life".
Review this product
Please log into your account to Add Your Comment.