Messianic Roman Glass and Sterling Silver Earrings. Grafted In.
Messianic Grafted In Earrings in Sterling Silver and Roman Glass
Item # : ER042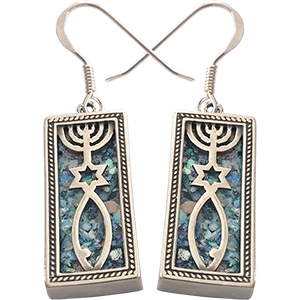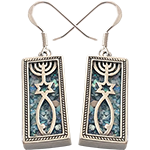 Stock Review
Earring Style:Dangling - In Stock
Sterling Silver Grafted In Earrings with Roman Glass
Dangling sterling silver mandorla-shaped Roman glass earrings featuring the Messianic Grafted In symbol.

Height: 1 inch / 2.6 cm

Feminine and iridescent, these earrings are bound to light up the room. No two pairs are alike because of the individual oxidation process each and every piece of glass went through.

Click to go to our featured article and learn more about Roman Glass and treating Sterling Silver and Roman Glass Jewelry
Review this product
Please log into your account to Add Your Comment.