Sterling Silver and Roman Glass Messianic Mezuzah Necklace by Michal Kirat
Mezuzah Necklace with Grafted In. Sterling silver and Roman Glass. Messianic Necklace. A Michal Kirat Design. Height: 4.5 cm | 1 3/4 inches
Item # : PN148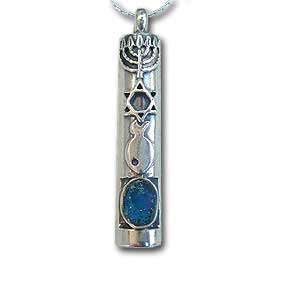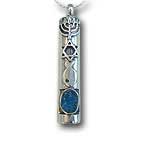 Stock Review
Material:Silver - In Stock
Sterling Silver and Roman Glass Messianic Mezuzah Necklace by Michal Kirat

Jewelry handmade on a Galilee Kibbutz.

Height: 4.5 cm | 1 3/4 inches


*Please,note the colour of glass may vary.
*Includes Certificate of Authenticity.

*Roman Glass does not like water.
Please do not get your Roman Glass wet.
Review this product
Please log into your account to Add Your Comment.