Rafael Jewelry Silver Walls of Jerusalem Eilat Stone Men's Ring
Hand-crafted in Jerusalem. This men's ring Eilat Stone setting is designed to resemble the Western Wall. Sizes in US ring sizes. Size: 5/8 x 1/2 inch | 1/5 x 1.2 cm
Item # : ES013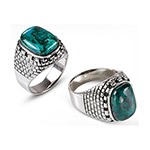 Stock Review
Jewelry Type:Ring US Ring Size:US 6 - Out Of Stock
Jewelry Type:Ring US Ring Size:US 6.5 - Out Of Stock
Jewelry Type:Ring US Ring Size:US 7 - Out Of Stock
Jewelry Type:Ring US Ring Size:US 7.5 - Out Of Stock
Jewelry Type:Ring US Ring Size:US 8 - Out Of Stock
Jewelry Type:Ring US Ring Size:US 8.5 - Out Of Stock
Jewelry Type:Ring US Ring Size:US 9 - Out Of Stock
Jewelry Type:Ring US Ring Size:US 9.5 - Out Of Stock
Jewelry Type:Ring US Ring Size:US 10 - Out Of Stock
Jewelry Type:Ring US Ring Size:US 10.5 - Out Of Stock
Jewelry Type:Ring US Ring Size:US 11 - Out Of Stock
Jewelry Type:Ring US Ring Size:US 11.5 - Out Of Stock
Jewelry Type:Ring US Ring Size:US 12 - Out Of Stock
Jewelry Type:Ring US Ring Size:US 12.5 - Out Of Stock
Jewelry Type:Ring US Ring Size:US 13 - Out Of Stock
Jewelry Type:Ring US Ring Size:US 13.5 - Out Of Stock
Jewelry Type:Ring US Ring Size:US 14 - Out Of Stock
Rafael Jewelry Sterling Silver Walls of Jerusalem Eilat Stone Men's Ring

The Walls of Jerusalem surround the Old City and are a symbol of Jerusalem. They are constructed of Jerusalem Stone which has been used to build and re-build Jerusalem for the past 3000 years. In the glow of the setting sun on the lightly-colored stones it creates a golden-hued reflection. This ring is designed to represnt the beauty of Jerusalem's Old City Walls.

The ring sizes are in US whole and half sizes. If you are from outside the US or Canada or if you are purchasing the ring as a gift, please see our Ring Buying Guide for a Ring Size Conversion Chart and tips on getting the correct size.

Please note: This jewelry is hand-crafted and made to order. Therefore, this piece will take an additional 10-14 days.

Eilat Stone is considered the national stone of Israel. It is characterized by stunning its blue-green color. The stone received its name from Israel's southernmost city, Eilat. The Eilat Stone was originally excavated from the ancient copper mines of King Solomon in the area of Eilat and therefore, is also knows as Solomon Stone.
Review this product
Please log into your account to Add Your Comment.