Rafael Jewelry Sterling Silver Roaring Lion Necklace
Hand-crafted in Jerusalem. Beautifully detailed pendant inspired by the verse Hosea 10:11 of a lion roaring, God calling for the ultimate restoration of Israel. Please choose chain length. Size: 1 x 1 1/4 inch | 2.3 x 2.8 cm
Item # : SJ047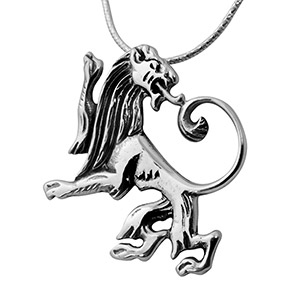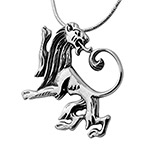 Stock Review
- Out Of Stock
Chain Length (Required):19 in | 50 cm Material Color:Silver - In Stock
Chain Length (Required):21 in | 55 cm Material Color:Silver - In Stock
Chain Length (Required):23 in | 60 cm Material Color:Silver - In Stock
Rafael Jewelry Sterling Silver Roaring Lion Necklace

This powerful sterling silver pendant features a majestic lion roaring back, inspired by the scripture Hosea 10:11, "They will follow the Lord; he will roar like a lion. When he roars, his children will come trembling from the west. God is calling for the ultimate restoration of Israel and thus calling His Chosen People to Him. This necklace can serve as an inspiration for all who believe in Israel and her restoration.

The pendant is stylish and created with careful detail. It masterfully blends the Word of God with a modern design A masterful blend of ancient tradition and contemporary design that is suitable for both men and women.
Chain included, your choice of length, please note there is a small fee for longer lengths.

Please note: This jewelry is hand-crafted and made to order. Therefore, this piece will take an additional 10-14 days.
Review this product
Please log into your account to Add Your Comment.